Cassel Interiors,Inc. is your one stop resource,let us create a new look for your home.

We specialize in residential homes with designs that reflect our clients' personality and lifestyle.  Here at Cassel Interior Decorating we make sure that the job is completed from beginning to end and that our customers are happy with the quality and craftsmanship throughout.

Allow Cassel Interiors, Inc. and our team to help you create a home out of your living space!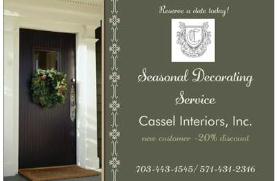 We offer  decorating for all occasions. Give yourself the gift of time! We use the clients decorations and enhance them  with new  merchandise. Spend time with family and friends during the holidays, in your beautiful  home.

Call for details-571-431-2316

to Cassel Interiors, Inc.                                                  

Jennifer Buracker      Phone:571-431-2316             email :jb@casseldesign.com           Middleburg, Virginia